NEW STUDENT ELEARNING
SELF-ACCEPTANCE ELEARNING PROGRAM
HOW TO HELP YOUNG PEOPLE FEEL WORTHWHILE NO MATTER WHAT
developed by Professor Michael Bernard
with creative content by LMS developer, eCreators
Not a game, Accepting Myself, also known as self-acceptance, is an engaging, innovative social and emotional eLearning student intervention program where students learn a psychological superpower to feel worthwhile no matter what! For ages 9 -16+, this eLearning program incorporates the latest developments in online, interactive instructional technology.
Unfortunately, many young people have a well-developed tendency to take things personally – so much so that they lose sight of their positive features.
WHY STUDENTS NEED SELF-ACCEPTANCE
Without self-acceptance, students are extremely vulnerable to stress. As a result, they can experience intense anxiety, depression, anger, and under-achieve in their schoolwork.
Students develop a capacity to change self-criticism to self-acceptance leading to greater self-awareness, self-worth, confidence, self-management, independence and resilience.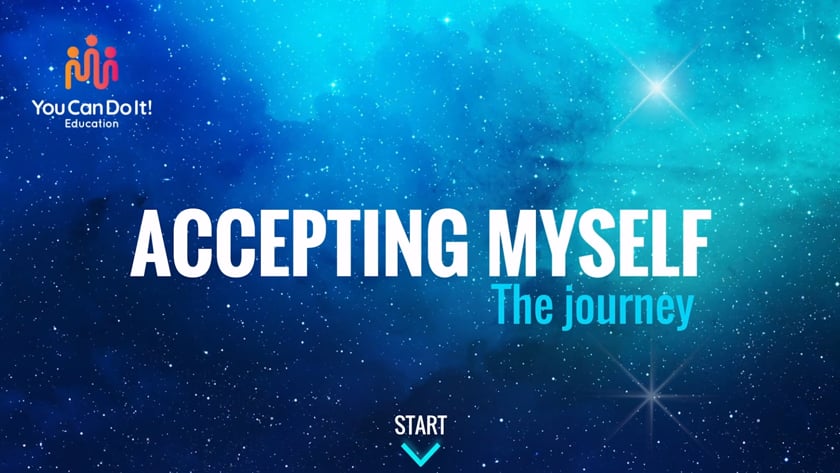 Student-Directed Elearning Program (ages 9-16+)
A 3-part, online eLearning program takes 30 to 60 minutes which students can complete in school or at home:
Part 1. ACCEPTING MYSELF. The Journey,
Part 2. YOU-TOPIA. Be Yourself,
Part 3. YOUR UNIVERSE. Take Command.
Throughout each of the three parts, students engage with interactive, engaging activities that help to personalise and learn a psychological superpower to feel worthwhile no matter what!
Student Toolkit
Containing activities and resources they can use to extend their learning from the program and to continue to strengthen their self-acceptance including: Memory Refresher, See Your Positives, Be Proud, Accepting Myself Survey, The Catastrophe Scale and Four-Week Action Plan. Students can download once they have completed the program.
Leader's Guide
Provides a background to the program including key ideas presented, additional strategies to help strengthen students' self-acceptance and a 3-Part Program Review and Extension Activities.
The Strength of Self-Acceptance
A 30 minute professional development eLearning course for leaders to complete before introducing students to the Accepting Myself Program.
Downloadable Parent Guide
This downloadable guide presents parents with the information they need to appreciate the importance of self-acceptance, key ideas taught in the eLearning program and what they can say and do to support their child's self-acceptance at home.