NEW STUDENT ELEARNING
SELF-ACCEPTANCE ELEARNING PROGRAM
HOW TO HELP YOUNG PEOPLE FEEL WORTHWHILE NO MATTER WHAT
developed by Professor Michael Bernard
with creative content by LMS developer, eCreators
WHY STUDENTS NEED SELF-ACCEPTANCE
Without self-acceptance, students are extremely vulnerable to stress. As a result, they can experience intense anxiety, depression, anger, and under-achieve in their schoolwork.
Students develop a capacity to change self-criticism to self-acceptance leading to greater self-awareness, self-worth, confidence, self-management, independence and resilience.
Student-Directed Elearning Program (ages 9-16+)
A 3-part, online eLearning program takes 30 to 60 minutes which students can complete in school or at home:
Part 1. ACCEPTING MYSELF. The Journey,
Part 2. YOU-TOPIA. Be Yourself,
Part 3. YOUR UNIVERSE. Take Command.
Student Toolkit
containing activities and resources they can use to extend their learning from the program and to continue to strengthen their self-acceptance including: Memory Refresher, See Your Positives, Be Proud, Accepting Myself Survey, The Catastrophe Scale and Four-Week Action Plan.
Leader's Guide
provides a background to the program including key ideas presented, additional strategies to help strengthen students' self-acceptance and a 3-Part Program Review and Extension Activities.
The Strength of Self-Acceptance
A 30 minute professional development eLearning course for leaders to complete before introducing students to the Accepting Myself Program.
Downloadable Parent Guide
This downloadable guide presents parents with the information they need to appreciate the importance of self-acceptance, key ideas taught in the eLearning program and what they can say and do to support their child's self-acceptance at home.
Click play to preview the program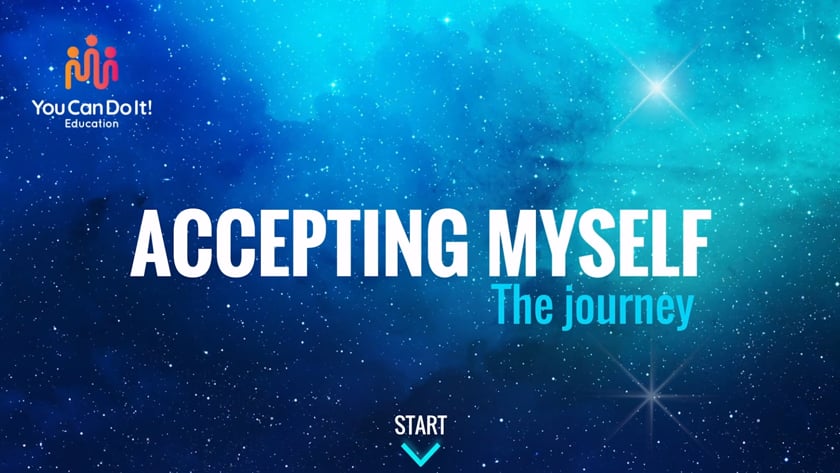 Enter the draw to win your school
Accepting Myself for 2023
Entry is open to all public, catholic, and independent schools.  No purchase is required to enter. Each entry must be submitted by an authorised representative of the school.  Proof of authorisation may be required to be produced to verify a winning entry.  Winning entries will receive online access for the 2023 calendar year to a digital license for the Accepting Myself eLearning program. Individual prizes are valued at $495.  Prizes may not be exchanged for money or goods. If for any reason a school is unable to accept the prize a new winner will be drawn. A total of 4 winning entries will be drawn on 26th November 2022. All winners will be notified by email using the email address supplied on the entry form. Subscription to the You Can Do It! Education email mailing list forms part of an entry. Acceptance of these terms must be given for a competition entry to be valid.  If you have any further questions regarding this competition please contact us.